Adding Comments to a Flowbuilder Graph Follow
Flowbuilder Comments allows you to annotate your Router Graphs with notes, comments, and questions. Comments can be tagged to one or more nodes or just placed on the Graph.
Adding Comments
To add a comment, simply drag the comment node, from the bottom of the Node Selector, to the canvas. When you release the node on the canvas, it will automatically open so you can add the comments.
Enter the comments as needed. The comment box is a text box you can add text to at any time. To tag one or more nodes, click on the pull-down under Tag Nodes and select the desired nodes. Click Done to close the window.
You can also comment on multiple nodes by first selecting the nodes by holding your SHIFT key, then dragging in a new comment from the toolbar.
The comment node will display a number for the number of nodes it is tagged on. If the comment is not tagged to any nodes, the node will display 2 lines. If you mouse over the comment node you will see the text of the comment.
Editing Comments
To edit a comment, double click on the desired comment node to open the edit window. Add/edit comments as needed.
Searching Comments
You can search through your comments using the Comment button in the top right corner of the graph editor.
When you click on the Comment button, the Comment window will open. In this window, you will see all the comments that have been added to the graph. Clicking on a comment will highlight the comment on the graph. Double click on the comment to open it for editing. To search through your comments, enter the search text in the Search Field. The list of comments will show only comments with the search text.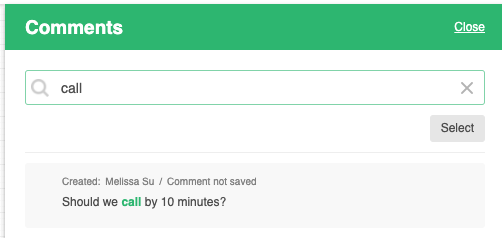 Deleting Comments
There are several ways to delete comments. To delete an individual comment, select the Comment Node and click the Delete button on the toolbar.
You can also delete one or more comments from the Comment window. Click the Comment button to open the Comment window. Select the comments to delete and click the Delete button.