June 2022 - 1.577 Release Notes Follow
New LeanData & 6sense Integration!
*General Availability begins July 15th.

6sense Account Intent Trigger Nodes
Orchestrating account-based motions based on 6sense intent signals has long been a powerful use case across LeanData & 6sense customers. With the LeanData & 6sense integration, we're excited to introduce two new trigger nodes in Account Router that provide for seamless intent-based routing!
Drag-and-drop the 6sense New or Updated Intent Trigger nodes into your graph to automatically trigger routing for your highest-value accounts that meet specific 6sense conditions. Leverage 6sense fields such as 6QA, Intent Score, Buying Stage, Profile Fit, and others to determine in-market, high-intent accounts, and spark the next best action.
Already leveraging 6sense conditions in your standard trigger nodes? Great! Simply migrate those conditions to the relevant 6sense Intent Trigger node to easily visualize and distinguish your 6sense account-based processes.
For more information, check out our guides.
Please Note: Records that meet your conditions in the 6sense Intent Trigger nodes will be processed first, and all other records will fall back to your standard account routing triggers.
Use Cases:
Prioritized Outreach:

Automatically route 6QAs to the right owner as soon as they reach Decision or Purchase Buying Stages. Instantly alert the Owner via Slack to act.

Boost Accountability:

Hold reps accountable for 6QA SLA's using the Hold Until node, and set automated reminders to alert reps to take timely action.

Dynamic Assignments:

Dynamically manage & prioritize your rep's book of business. Schedule jobs to remove accounts that are no longer 6QA from your rep's territory list and refresh them with recent, unowned 6QAs.

6sense Account Enrich Node
Fuel your account-based outreach with accurate and real-time information. Eliminate time spent on manual research and boost sales productivity with the new 6sense Enrich Account Node. Drag-and-drop this node into your Account Routing graph to enrich your account records with complete firmographic data points to power rep outbound prospecting efforts.
Use Cases:
Real-time enrichment:

Enrich new Accounts in real-time for key company-level attributes via 6sense Enrichment data.

Contextual alerts:

Notify reps of priority accounts with contextual information to inform their next best action.

Informed outreach:

Pair Enrichment Nodes with Intent Triggers to surface the hottest accounts to your reps, with all the information they need to book a meeting.

For more information, check out our guides.
Clearbit Enrichment Trigger Nodes
Orchestrate real-time Clearbit enrichment data in Salesforce to accelerate speed-to-lead. Drag-and-drop the new Clearbit Trigger nodes into your Lead or Contact Router graph and leverage the suggested Clearbit fields to instantly route enriched records to the right rep, with real-time data to ensure relevant follow-ups. Limited availability. General availability with the September 2022 Release.
BookIt
SFDC Event Sync on Meeting Reschedule
BookIt, the newest addition to LeanData's Revenue Orchestration Platform, empowers prospects and reps to instantly book meetings from forms using flexible and easy automation! This latest update expands on BookIt's Event Creation functionality in Salesforce, to ensure event records are automatically updated if a meeting is rescheduled. BookIt keeps your Event details up-to-date, so your team can engage prospects with the right information, at the right time.
Learn more about BookIt and how to get started!
User Defined Open Hours
This new update enhances the flexibility of Open Hours – specifically, for cases in which one standard time frame may not answer to the unique working hours of all of your team members. With the toggle of a setting, BookIt will show scheduling pages to your prospects based on the user-specific working hours that you have set up within LeanData! Get started by going to LeanData > BookIt > Settings.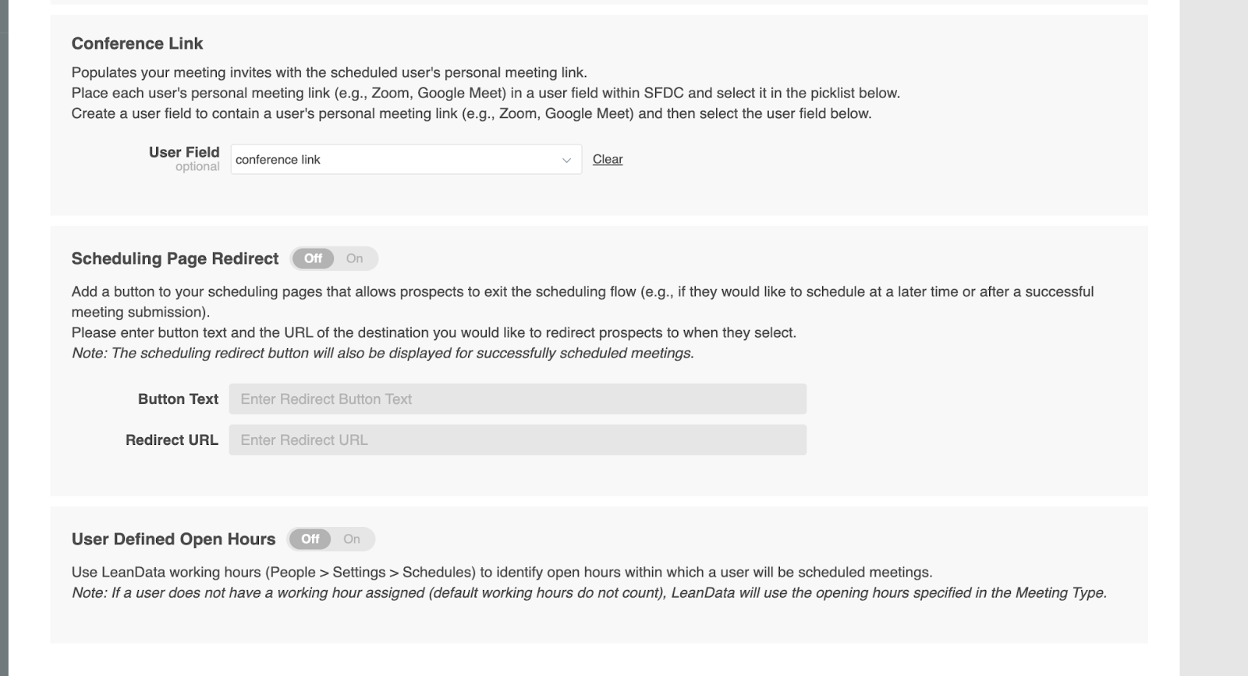 Matching
Matching Improvements
We are continuously strengthening LeanData Matching's capabilities to ensure your records are always matched to the best possible account! Our latest enhancements include smarter acronym logic and an expanded suffix library to recognize even more variations of international website domains!
Routing
Hold Until Enhancements
The Hold Until Node is getting an upgrade to strengthen SLA tracking! The Hold Until Node will now mark any record that is a Converted Lead, or records that have already met their specified conditions upon entry, as a "Met" SLA. This will be automatically captured in your Time-to-Action Trackers, providing for improved tracking and reporting!
Record Already Assigned to Owner Edge
Do more with Route Action Nodes! All Route nodes have a new edge, 'Record Already Assigned to Owner', to capture if the intended recipient for a record already owns it. Leverage this edge to send highly tailored, contextual notifications to alert your reps of new marketing activity related to their prospects. Get started by going to LeanData > Routing > FlowBuilder > Action Nodes > Route!
Round Robin Pool Enhancements
Managing your Round Robin Pools just got easier! You can now focus your time on what's "live" by filtering for pools that are currently in deployed graphs. And while navigating in-and-out of your pools, LeanData will automatically remember the applied filters so your working session never skips a beat. Full pool names can also be viewed directly from the Pool list, providing for easy and efficient reference while you work!
General Product Enhancements
Here at LeanData, we are always working to enhance the flexibility and ease of use of our products. Here are the latest enhancements we've made to LeanData Routing to help you achieve better results:
Working Hour Times:

Specify Working Hours down to the minute. You can now select or type a specific time frame for your working hours, based on your organization's needs (i.e. 8:05AM – 10:05AM). Get started by navigating to

LeanData > People > Settings > Working Hours

!

Routing Scheduler File Size:

You can now upload a file size up to 30MB into Routing Scheduler for One-Time Jobs!

Please note

: the number of columns within a file adds to the file size. LeanData only needs the record ID.