September 2022 - 1.588 Release Notes Follow
Routing
You can now automatically add routed leads and contacts to the appropriate campaign and update Campaign Member Statuses through our new Add Campaign Member Action Node! Improve your tracking of performance metrics and ROI through Salesforce Campaigns for all routed leads or contacts.
Use Cases:
Enhance Campaign Tracking and Reporting: Understand how leads and contacts engage at multiple marketing touch points by automatically adding records to Salesforce Campaigns.


Update Campaign Member Statuses:

Update the statuses of existing campaign members based on your business requirements to reflect and track each campaign member's recent activity.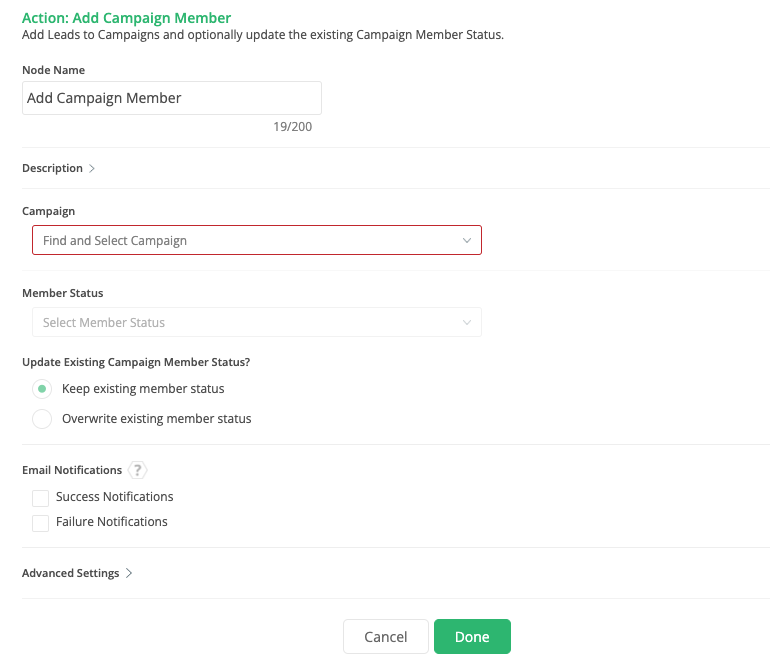 View the Add/Update Campaign Member Node Guide
Hold Until in Any Object Routing
You can now leverage the Hold Until Node in your Any Object Routing Flowbuilder to orchestrate time-based and criteria-based processes. Now, in addition to routing any of your key Salesforce objects via Flowbuilder, you can track SLAs, incorporate wait steps for other processes, or build out alerts and follow-ups over time to ensure your revenue team is taking the right action on every step of the customer journey.
Use Cases:
Enforce Follow-Up SLAs: Surface and ensure revenue teams are accountable for following up on relevant Salesforce objects such as Tasks, individual Product Interests, product usage data, or any other custom object data unique to the customer journey.


Time-Based Alerts

: Schedule future alerts to spur action from the revenue team on key moments in your customer journey, such as customer onboarding steps, implementation steps, and campaign follow-up.
View the Any Object Routing Guide
Routing Usage Dashboard
Your LeanData Homepage is getting a new look! We've updated the Dashboard for enhanced visibility of your organization's use of LeanData.
Routed Users by Profile: Easily view the different user profiles that LeanData is routing to. Within the details, you can see a breakdown of all the different types of users and their profiles and export them for further reporting.


Actions Taken by Type

: View and export actions completed by LeanData on routed records over the specified period.

View the Usage Dashboard Guide
Please Note: It may take 30-60 days for your Routing Usage Data to populate.
General Product Enhancements
At LeanData, we are constantly working to enhance our products' flexibility and ease of use. Here are the latest enhancements we've made to LeanData Routing to help you achieve better results:
Permission Set Group Support:

LeanData Permission Sets can now be added to Salesforce Permission Set Groups. Manually adding each relevant permission set is now in the past. Easily ensure each of your LeanData admins and sales reps has access to the right pieces of LeanData and Salesforce by centralizing all of the permissions they need in a single Permission Set Group.